Bali is so much more than a tourist destination. It's a lifestyle. Visit our Bali Tips page to find out some do's and don'ts and insider tips, and here I'll give you some interesting Bali Facts to help you explore Bali.
BALI FACTS
Bali is one of 17508 islands that make up Indonesia.
Indonesia is a Muslim country, but Bali is 92% Hindu.
Bali is located southeast of the main island of Java at 8-9 degrees south of the equator.
Bali is 95 miles wide west to east and 69 miles long north to south.
Bali's capital city is Denpasar, thus the airport abbreviation DPS
Although the airport descriptor is DPS it is actually located in Kuta.
The airport is located at the southern end of the island at the top of a 
peninsula called the Bukit. This area has some of the most beautiful unique beaches on the island, including Balangan, Bingin, Padang Padang, Dreamland and Uluwatu and of course Jimbaran itself. The fourth best surfing in the world.
Bali has approximately 4 million permanent residents.
Bali is surrounded by other beautiful sparsely populated islands that are an easy day or overnight destination
These islands include Lombok, Nusa Lembongan, Nusa Penida, Nusa Ceningan and 3 Gili islands, Air, Meno, and Trawangan.
Although Bali is tropical it has elevations from sea level to 10000 feet.
It offers climate types from arid to tropical rain forests.
Bali has a volcano that last erupted in 1963 before it's current 2017 event, which claimed 0 lives, but was so exaggerated in the media it caused a devastating financial crisis for Bali.
Bali's rainy season varies in intensity by area but is only 3-4 month in general.
The mountain areas tend to get more rain and be cooler than the beach areas by 10 degrees or more.
Most of Bali slopes gently down to the sea, with white and black sand or rock beaches.
There are only 3 major areas that offer high cliffs to the sea, Bukit, Candidasa/Seraya and Singaraja.
Bali is always in the top five island destinations worldwide, almost always topping Hawaii, because of it's famous hospitality and it's incredible affordability.
Unlike many tourist destinations, Bali would rank VERY inexpensive in comparison.
Everything from lodging to food can be had at a very low cost; however, attractions tend to be on par with other tourist areas.
Bali is best known for its welcoming and hospitable people, best reflected by a quote from the CEO of the Ritz Carlton, "When we go to a new country, we have to train people in hospitality, in Bali, we could only screw it up"!
Some ideas:

This section will attempt to show you popular areas of Bali that still reflect the culture and natural beauty of the island, but ones that have not been spoiled by excessive tourism and commercialism like Kuta, Legian, Seminyak, and Ubud. Don't get me wrong those areas have their place if you are the tourist that desires a plethora of shops, restaurants, bars, spas and the like, those four areas are ripe for you. Not that the areas I'm going to mention are devoid of tourists, just far less overwhelmed by them and still offering local flavor.
Amed:
Refers to a long stretch of coast running from the village of Culik about 14 km eastwards incorporating the seven villages of Amed, Jemeluk, Bunutan, Lipah, Selang, Banyuning and Aas. The pace of life here is slow and the coastal scenery quite stunning making Amed the perfect place for a relaxed holiday in Bali.
Amed is the most recent tourist development area in Bali. It was only in 2000 that tarmac was laid on the roads. Telephone lines were installed in 2003 and it took until 2007 for a bridge to be built over a section of the main road that regularly washed away during the rainy season.
This is the most commonly used base for visitors wishing to dive the USS Liberty wreck at Tulamben and the Japanese shipwreck right there in Amed. There are other good dive sites close at hand and a thriving dive industry has developed all the way along the coast here.
History:
Amed's inhabitants live from fishing, salt-making, and tourism. The lack of tourism-based revenue, its remote nature and the generally harsh environment for farming, meant that this area was very much one of the poorer areas in Bali. Amongst others, the East Bali Poverty Project [59] drew attention to the plight of the local villagers in this area and that, together with recent tourist development, has gone a long way to improving general standards of living, health, and education.



EXPLORE BALI
Pemuteran:
Is a small laid-back fishing village on the north coast of Bali which has become increasingly popular with visitors in recent years. There are a number of waterfront resorts and its proximity to Lovina and West Bali National Park together with the extreme natural beauty of the area, has fueled quite rapid growth in tourism infrastructure in the area. Key attractions here are diving and snorkeling Pemuteran's sunken temple and the National Park.
Pemuteran is home to the largest artificial Biorock reef project in the world[25] and there is a real spirit of marine conservation effort in this area.
Visitors usually arrive in Pemuteran on the north coast road from Lovina or Singaraja or from the west at Gilimanuk.
Getting There:
Regular bemos and really old, rattletrap buses ply the north coast road but they can be slow and get extremely crowded. Hail them from the side of the main road and haggle over the price if you are a foreigner. You will see a lot of the locals pay just pennies. Tell the driver you want to get off at Pemuteran since there is little in the way of a 'town center' or landmarks. Then walk down any 'gang' through the fields and past posh resorts to the coast.
You will have no problem renting a car with driver to take you from Lovina to Pemuteran – fix the price in advance and make sure petrol is included.
A direct ride to Pemuteran from tourist centers in the south will take about four hours depending on traffic on the coast roads.



Gitgit Waterfalls:
Located in North Central Bali and is considered one of the most beautiful waterfalls on the island and the largest at 46 meters. But here's the thing. When you say Gitgit most people (even locals) think of just the 46-meter falls. But there are actually 4 beautiful waterfalls in the jungles of Gitgit. If you like to hike this is for you, but if you have trouble walking or with your knees, you may want to pass on this one. Even just the large falls is a good hike up and down stairs, but the paved path is lined with little shops with colorful handicrafts.
Explore:
So where are the rest you ask? Well, the least known one is up behind the big falls. The last time I was there they looked like they were starting to prep it for the public, but it was just a narrow dirt path that took you to the top of the big falls and then crossing a bamboo bridge to the other side of the stream and hiking up a few hundred meters, coming around a big rock and bam, there it is, all tucked away in the jungle. But then further south on the main road, you'll find a little spot off the side of the road to park and there are two more waterfalls. Note, if you are coming from the south you hit these first. In the photos below I will have those first. The twin falls are actually my personal favorite.
I would be remiss if I didn't mention "Canyoning" in this region. Repelling down waterfalls is like nothing else.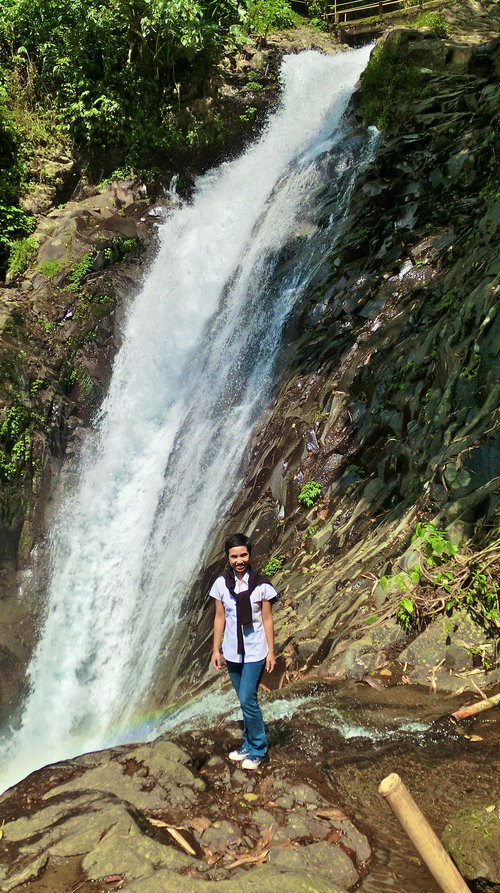 Bali Treetop Adventure Park aka Treetop Walk:
Located just north of central Bali, across from Bali Botanic Garden, in the Bedugul area. If you are athletic and up for a challenge this is for you. 7 obstacle courses that get progressively more difficult and are connected by zip lines. You can book online for as little as $22 before 10:30 am, after that time it goes up to $28, actually a great deal for what you get, and for an extra $1.50 you can tour the Gardens, the largest in Indonesia.





Pura
Lempuyang Temple 
You are looking at what is known as the Gate to Paradise in Bali with Mt Agung in the background.
This is Pura Lempuyang Temple sometimes called the Gateway to the heaven or gate to paradise depending on who you talk to. Just another must-see sight in east Bali. It is a short drive from our new location in Seraya.
Lempuyang Temple locally referred to as Pura Lempuyang Luhur, is one of Bali's oldest and most highly regarded temples, on par with Besakih (aka the 'mother temple' of Bali). It is also believed to predate the majority of Hindu temples on the island. Definitely a highlight on any travel itinerary for the fit and adventurous, the main temple lies at 1,175m above sea level, upon the peak of the namesake Mount Lempuyang in East Bali. The heights are reachable via a steep staircase of over 1,700 steps, with attractions along the way including several other temples and hordes of grey long-tailed macaques that inhabit the surrounding cool mountain forests.
This magnificent photo was taken in November 2017 as Mt. Agung was erupting. The natural beauty far out weighted the overblown media hype that robbed Bali of 1.5 Billion in tourist revenues. The photo was borrowed from Instagram with our thanks and gratitude.



Bali Rafting:
Rafting in Bali is AWESOME. If you have ever rafted elsewhere it was probably in freezing cold water. Not here! In Bali you won't mind falling in the water, in fact, you may want to just jump in. Now there are several places to raft. I can't in good faith recommend Ubud, it's a bit too mundane for me. Now don't get me wrong, none of the rafting here is going to be extreme category 5 or even a strong 4. This is just good fun rafting for everyone from kids to seniors. My favorite is rafting the Telawaja River that is fed by the waters from Mt. Agung, the 3000-meter mountain of Bali. The landscapes you'll see going down this river will be like nothing you'll find on your own. We have been using the same company for years now, with no complaints and the best prices you'll find.